I think it's possible that I need to rethink my relationship with granola. While I've certainly enjoyed it, I've always (perhaps subconsciously) thought that it was more of an afterthought added for a bit of texture, rather than the star attraction. In searching for new items to carry on our store, I was excited to be able to find a quality Vermont Made product, but if I'm being completely honest, I hadn't fully considered being able to track down an earth-shattering granola. Glad to be proven wrong, not only is True North Granola the best tasting granola I've ever had, it's also given me a new appreciation and outlook for granola in general.
A few highlights. We first tried True North Granola on a dawn patrol hike up Stratton Mountain. I know it's a small thing, but I loved that the packaging was easily resealable and great for travel. When pulling out mid-layers, or camera gear on the trek up, it's really nice not to have to worry about dumping a pouch full of granola all over your bag. 
Now as a fuel source, True North truly excels and this is due to their ingredients. There's something to be said for simplicity. When you look on the back of the bag you're not left wondering what it is you're about to eat. It's simple, it's whole, and it's delicious. This is by design. In addition to being two of the kindest people you could ever meet, Ingrid and Franklin Chrisco (True North Granola's creators and owners) launched True North Granola from their home in 2006, while still actively working as educators. Their intent was, and remains to be, to create healthy products that are never "too sweet," that are low in carbs, sodium, and sugar, and rooted in healthy fats. Basically all the key components that you need to power through your day. Whether that day includes hiking the LT or long-hauling Zoom meetings for hours on end, True North Granola gives you the fuel you need.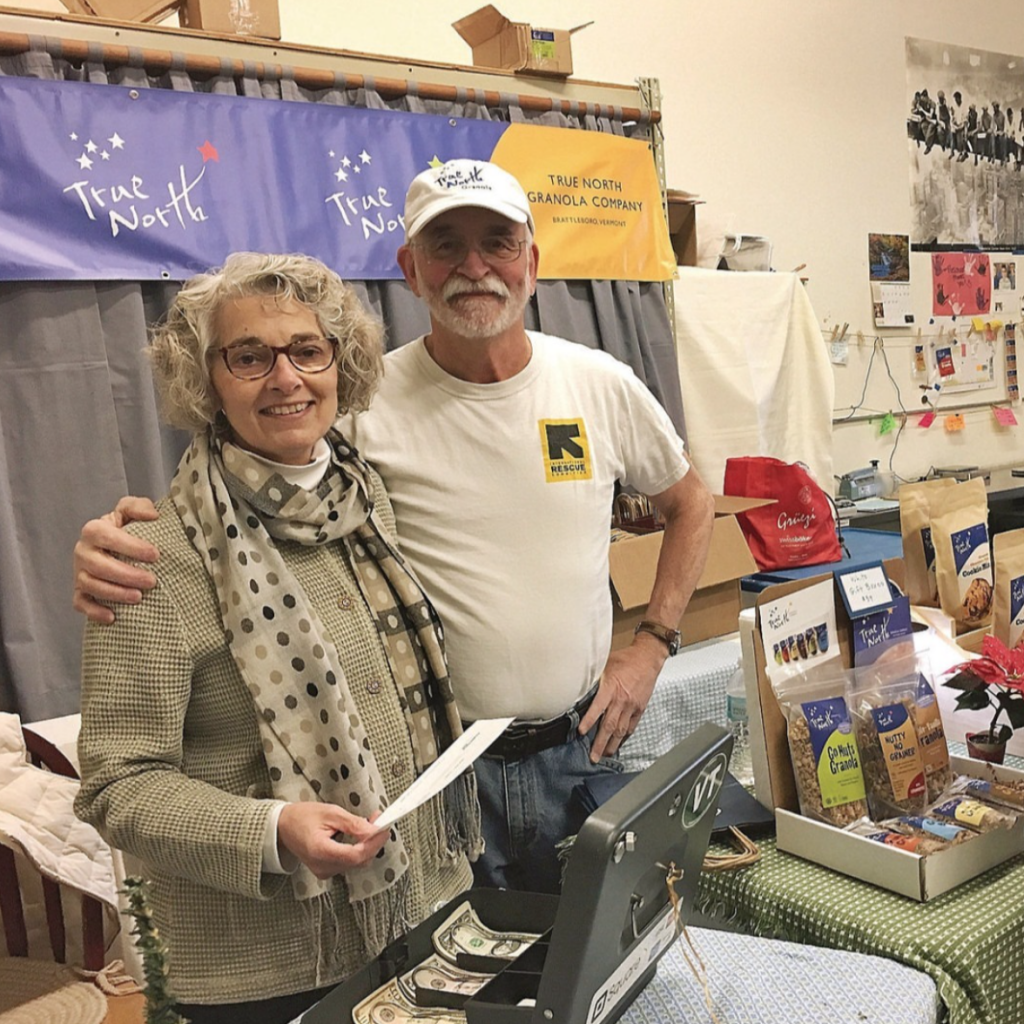 Let's talk flavor. Just because it may be simple doesn't make it at all ordinary. As I mentioned in the beginning, in the past I've used granola more as an added crunch rather than as the big flavor feature - but True North Granola turns that idea on its head with bold, full flavored ingredients. Think Pure Vermont Maple Syrup, whole natural almonds, apple juice-infused cranberries, and a whole lot more! True North's dedication to high quality, delicious ingredients such as these make it perfect not only for adding that granola crunch on top of yogurt bowls, salad mixes, cheese boards and more, but also easily holds its own as a stand alone snack.
We can't get enough of the blend of maple-baked nuts and seeds, coconut oil, and spices in the Nutty No Grainer (gluten free, paleo, vegan, grain free!). From through hikers, to wine and cheese enthusiasts, to kids snacking away happily - True North Granola is a winner through and through.
Vermont Barrel Aged is located in small-town Pawlet, VT and specializes in using reclaimed whiskey barrels to create some of the most unique and boldly flavored hot sauces produced in the state. Their barrel aged magic creates something truly special!
Vermont Barrel Aged locally sources a variety of Vermont-grown hot peppers and creates a custom blended hot sauce which they then expertly age for up to three years in oak barrels. In the whiskey making business, oak barrels are used to age liquids over other woods due to their ability to interact with the liquid and exchange and enhance flavors. Similarly, these whiskey barrels infuse a unique flavor of bourbon and cider creating a hot sauce with complexity and smouldering, simmering heat.
Vermont Barrel Aged produces their hot sauces at Mach's Market, a specialty food market in Pawlet, VT, which has become a community hub and destination for the area. They specialize in buying and selling local agricultural products, thus building a sustainable future supporting local farmers, strengthening rural communities, and helping to keep Vermont's landscape a place we can continue to treasure.
Perfect for the hot sauce newbie and the aficionado alike, Vermont Barrel Aged offers a variety of flavors - Smoked Ghost, Bourbon, Hard Cider, and Smoken BBQ - there is a barrel aged hot sauce for everyone's palate! Don't miss this delicious Vermont-made gift (available by the bottle and by variety three-pack)!
Be sure to check out all of the Vermont Barrel Aged lineup here!
Show your special Valentine some Vermont-made love with these amazing romantic and delicious gifts! Use code MYVTVALENTINE for 20% off your order*!
*Offer expires 2/14/21 and cannot be combined with any other promotions or offers. Offer can be removed at any time at Vermont.com's discretion, further requirements may apply. For additional information or questions please contact us at [email protected] or (802) 489-6606.
I think it's pretty safe to say that 2020 has been one of the more stressful years in recent memories (understatement). One natural remedy that we've been lucky enough to be able to turn to several times over the past few months has been CBD (cannabidiol) products. Even luckier still, in Vermont we're completely spoiled by the variety and quality of the locally produced options!
We've put together a quick list of some of our favorite CBD varieties that we think you'll like - whether cannabidiol is second nature, or if this is your first time checking it all out! No matter what your experience level may be, rest assured, all of the CBD products you find on the Green Mountain Market are of the highest quality, lab-tested, and exclusively Vermont-grown!
Enjoy, destress, and welcome in 2021!
1. Suspensions
Hemp suspensions are basically the backbone of CBD consumption. As a quick and easy method to use, suspensions are most frequently ingested by placing a drop or two under your tongue - sublingually - and letting it sit for a minute or two. If you're unfamiliar with the taste of hemp, you can always add a drop on top of a freshly baked Christmas cookie! Known to help pain, arthritis, anxiety, and many other ailments, Mettawee Valley Hemp's Tinctures are a great first step (and reliable constant) to your introduction to CBD.
This suspension is available containing their standard CBD dosage, a double strength, and a quadruple strength suspension for maximum effect (additional details on product page).
2. Beauty Balms
Overland Botanicals CBD Healing Balm is our holy grail little beauty secret. Packed with some of our favorite ingredients - CBD MCT oil, Shea Butter, Vitamin E, and Calendula-infused Olive Oil - this easy to use beauty balm is the perfect remedy for tired eyes, cracked lips, and dry skin. Add this to your beauty routine by using it on your lips, eyes, and body to firm up and moisturize your skin. We love keeping this healing beauty balm not only on our vanity, but at our work desk as well for all-day calming and moisturizing pick-me-ups!
3. Salves
Hemp salves are a beneficial topical agent that are not only nourishing and moisturizing for skin, but they also provide a potent anti-inflammatory response. Perfect to use for soothing skin (chapped Winter hands anyone?), or for joint relief (who is sick of shoveling snow already?), Mettawee Valley Hemp's salves are made from all organic ingredients and come in three different scents for three different moods; Natural, Lavender, and Eucalyptus-Peppermint.
4. Pre-Rolls
Who doesn't love a pre-roll? Enjoy this three pack made up of a variety of Strawberry CBD pre-rolls at your happy and calm leisure! Strawberry Pie, Strawberry Mint, and Strawberry Sage each invite a different feeling and emotion to guide and calm you through the stressful holiday season. Even though this may look like its more well known 'cousin' (THC), each pre-roll is certified CBD-only, so you can rest easy and take a walk in this strawberry field with absolutely no hesitation.
5. Lotions
Mettawee Valley Hemp's CBD Hand + Body Lotion is a straightforward way to enjoy the benefits of CBD without overthinking it. The formula is specifically designed to be extremely effective and long-lasting. This is one of those everyday use products we swear by. Put a bottle next to the kitchen sink, bathroom sink, office desk, or vanity and use it throughout the day to keep your skin soft, nourished, and calm.
6. Gift Sets
This topical complete care package is a perfect gift set whether you know the CBD game and you love and want it all, or if you're new to CBD and want to sample what works best for you. The Hand + Body Lotion, Hemp Salve, and Lip Balm all supply you with nourishing, moisturizing, and soothing CBD essentials. Treat your loved ones to the ultimate gift of CBD luxury!
Happy Holidays, Happy New Year, and happy relaxation from all of us at the Green Mountain Market!
Trust us, we know the feeling - it's the middle of the month and you still don't quite know what you're getting for everyone on your gift list! We've all been there before and this year more than ever, it can be a total pain to go out and go shopping. Which is why we put together this list of ten Vermont-crafted gifts all for $25 or less, that we wrap and send to the front door of your choosing! We know you're going to love these great gift ideas, so don't forget to put in your order as soon as possible to arrive before the Holidays! Plus, don't miss out on free shipping on all orders over $75 when you use code "SHIPFREE75" at checkout. Happy shopping, Happy Holidays, and thank you for shopping local!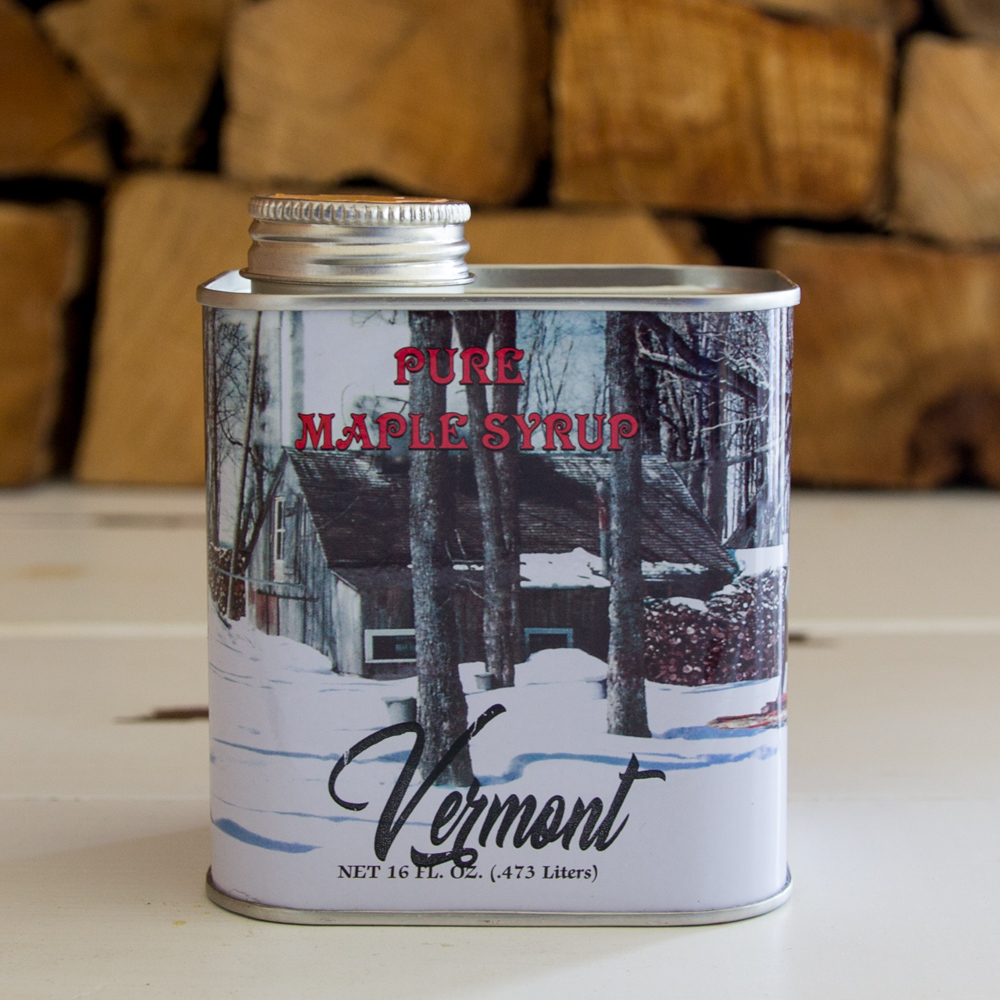 Enjoy your favorite pure Vermont Maple Syrup in this vintage-inspired syrup tin featuring a bucolic Vermont scene. Perfect for recreating nostalgic moments, framing your perfect Instagram shot, and most importantly for being unbelievably delicious, this Old Fashioned Maple Syrup Tin is filled with Grade A Amber Maple Syrup, that every maple-lover will enjoy!
This award winning Organic Maple-Vanilla Granola contains no nuts and is made with rolled oats, pure vanilla extract, and Vermont Maple Syrup. This tasty granola is full of crunch and flavor, but not too much sugar. Ideal for a tasty topper to your morning breakfast, or as a boost of energy when you're enjoying the great outdoors - one thing is for certain, this is one of the best granolas we have ever tasted and we know you'll think so too!
You may have heard of some of the benefits of taking a teaspoon of plain Apple Cider Vinegar each day, well here is the Vermont alternative! Take a shot...to life! Your digestive, circulatory, immune, metabolic, cardiovascular, respiratory, reproductive, and cognitive functions all benefit from this powerhouse grouping of fresh ingredients. And hey, because we're Vermonters here, maple syrup is added for nutrients & delicious sweetness!
Overland Botanicals CBD Healing Balm is our holy grail little beauty secret. This easy-to-use beauty balm is a perfect remedy for tired eyes, cracked lips, and dry skin. Add this to your beauty routine by using it on your lips, eyes, and body to firm up and moisturize your skin. We love keeping this healing beauty balm not only on our vanity, but at our work desk as well for all-day calming and moisturizing pick-me-ups!
Comprised of three manly and crisp scents, The Vermont Buck Bundle is for the gentleman that appreciates a heady DIPA, maintains a majestic beard, and can stack a cord of wood quicker than you can say "Hand me my hatchet". If this sounds like you (or the special gentleman in your life), then The Vermont Buck Bundle is for you.
Vermont Barrel Aged uses recycled whiskey barrels to transform normal hot sauce, into something truly magical. They locally source a variety of hot peppers and create a custom blended hot sauce that is then aged up to three years in oak barrels. The whisky barrels infuse a unique flavor of spicy-oaky bourbon creating a hot sauce with complexity and simmering heat.
Every morning, happy Vermont cows, Saturn & Phoebe, come in from the fields for their daily morning milking. Maeflower Farms uses this milk to make their signature line of Whole Milk Cow's Soap which is soft, gentle on the skin, and gives a nice creamy lather. Gingerbread Spice Whole Milk Cow's Soap is packed with ginger, clove, cinnamon and nutmeg essential oils, this warm and spicy soap is sure to remind you of winter holidays and gingersnap cookies with a glass of milk!
The perfect VT treat for any Vermont child or adult alike! This maple sugar candy will melt in your mouth and put a grin on your face. Made with Pure Vermont Maple Syrup right here in the Green Mountains!
Dorset Daughters lotions are made by hand in a sixth generation Vermont farmhouse.Their Hand + Body Lotion is a long lasting moisturizer, making it great as an all over body lotion, or for keeping near the sink to rehydrate after hand-washing. This lotion is made with Sunflower Oil and Shea Nut Oil, and is scented with 100% pure essential oils.
Infused with smoked Serrano peppers, this maple syrup offers an explosion of flavors. The flavor profile of the Serrano is a crisp, smoky, fruity flavor with citrus undertones and a heat that lingers. This savory pepper and the maple syrup combined offer the perfect balance of sweet and spicy. With many layers to it, this maple syrup starts off with a smokey flavor and comes in with spice on the back end.
Happy Holidays from all of us at The Green Mountain Market by Vermont.com!
There's nothing quite like Christmas morning in Vermont! Don't get us wrong, Christmas is a special time of year no matter where you're celebrating, but there is something extra special about spending the Holiday in the Green Mountains! A beautiful layer of snow blankets the ground (on an extra special year it snows the night before!), there's a warm, welcoming fire crackling in the fireplace, and most importantly, time seems to slow down just a little bit and you can find a moment to take a deep breath and relax. We've put together a quick list of Vermont-made gifts to help augment your Holiday morning festivities and we know that you'll want to add them to your family's traditions!
Christmas is a day that starts early and goes late! We recommend that you gather your strength and start things off with a strong mug of coffee. We've been absolutely loving the blends that Tall Cat Coffee Roasters from Dorset, VT have created. Specializing in sourcing organic and fair trade coffee, followed by roasting locally with love, a great cup of coffee will keep you energized and prepared for your busy morning ahead!
Now that you've had your morning coffee fix, strengthen your energy resolve for the present unwrapping with a delicious Christmas morning breakfast! May we suggest a large stack of buttermilk pancakes drowning in pure Vermont Maple syrup (Buddy the Elf will approve). To really take your syrup game to the next level, be sure to enjoy what the good folks at Dorset Maple Reserve have been cooking up (the Maple Connoisseur Trio is UN. BE. LIEVABLE)!
Now that we're fueled and ready, let's take a look at some Stockings Stuffers!
Grandpa's Stuff Maple Cream is a delectably scrumptious Vermont treat perfect for every stocking. Enjoyed for generations, Grandpa's Stuff is a delicious gift idea that will bring a smile to the face of any maple lover! Of course Grandpa's Stuff is exceptional on all of the classics (pancakes, waffles, toast), but one Pro Tip is to drizzle some over a bowl of freshly popped popcorn. Mind blowing!
These are the most surprising and entirely amazing gummy candies we have ever had! Bold claims, we know, but we honestly have never had a more flavorful and delicious gummy, ever. We're offering these treats from Ambrosia Confections as a three-pack mix and match of flavors, perfect to gift together, or split up into each of the stockings on your mantle. As we've seen in our own pantry, your family will be fighting over the last bite!
For the main event, a few gifts for under the tree!
The resident ski bum of the family will be thrilled to rock Wander on Words' Ski + Ride Vermont T-Shirt. The design features all of the ski resorts in Vermont in bright green, blue and white, on a super soft and wearable t-shirt. No skiers or riders? Check out Wander on Words other t-shirt options, Breweries of Vermont and Hike Vermont!
Christmas is often a time to explore luxury gift options, but that doesn't have to mean luxury prices! Grace & Miss Mouse Soaps Luxury Sheep Milk Set is a trio of Vermont-made hard bar soaps that will satisfy any self-care spa-lover in your family. The soaps are made in small batches, locally, by a woman run business using the finest of ingredients leaving your skin exfoliated, nourished, and moisturized.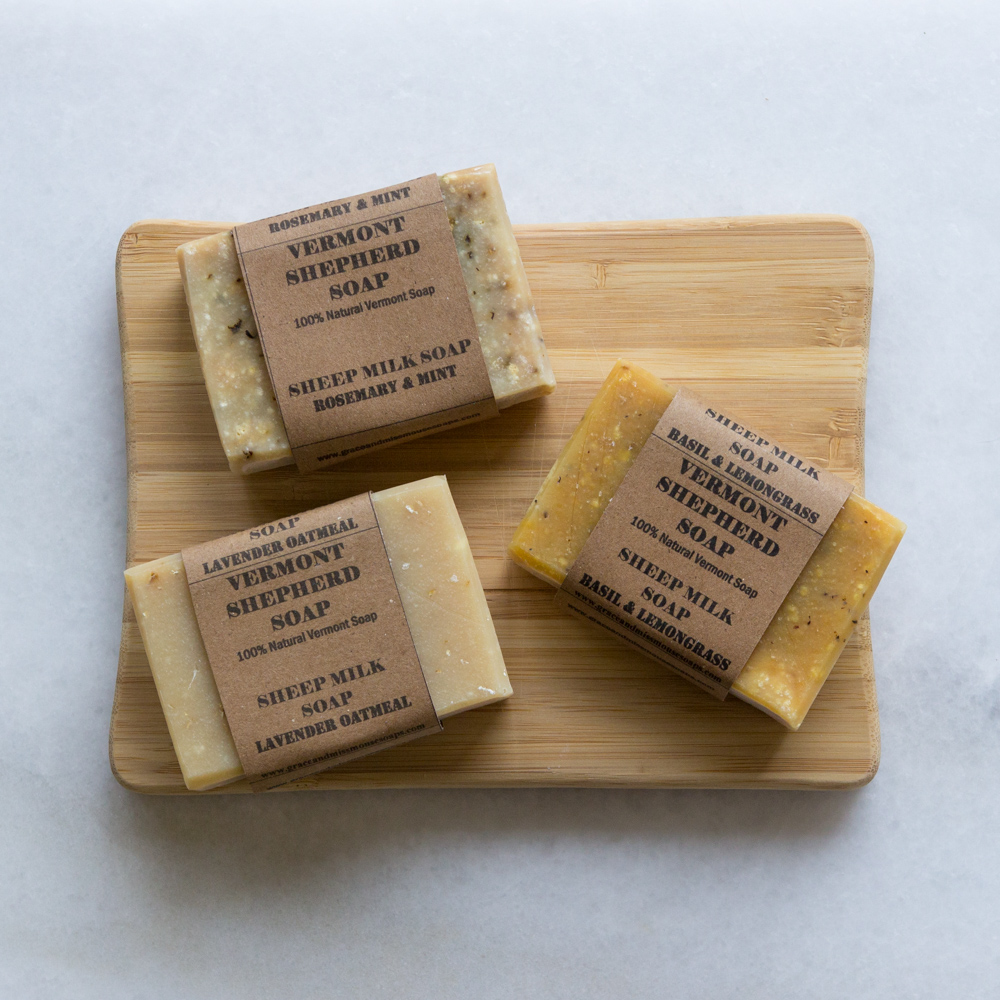 Always a show stopper, treat your favorite lady to hand crafted, Vermont-made, Maple Seed earrings from Allison Korn Designs. Made from the imprints of a maple seed found in the late-summer woods of Vermont, this northeast maple is a variety that thrives off nature's floods. These earrings epitomize resilience at its finest. A 2020 jewelry if there ever was one!
Merry Christmas from all of us at the Green Mountain Market!
Hanukkah is soon upon us and we encourage our fellow Israelites to shop local this year! The Green Mountain Market has a wonderful array of gift options, all produced and created here in the great state of Vermont!
No better way to kick off the Festival of Lights than with a Vermont-made candle! VT Wicks' White Birch soy-based candle is made from the highest quality ingredients and hand-crafted in small batches in the historic ski town of Killington. The White Birch scent is the perfect aroma to get you into the holiday spirit!
This is one of our favorite hot sauces - not just for the outstanding flavor, but for the amazing artwork! Jeff Levinsky, owner of Silk City Hot Sauce, worked with comedian Aaron Berg (of Comedy Central and Badass Jew The Podcast) to develop and design a signature blend! Born of peppers (habanero, cherry, jalapeño, serrano, and long hots) and whirled together with tomatoes, garlic, and seasoning, Badass Jew Hot Sauce creates a heat and flavor profile that will fully fire up your Festival of Lights!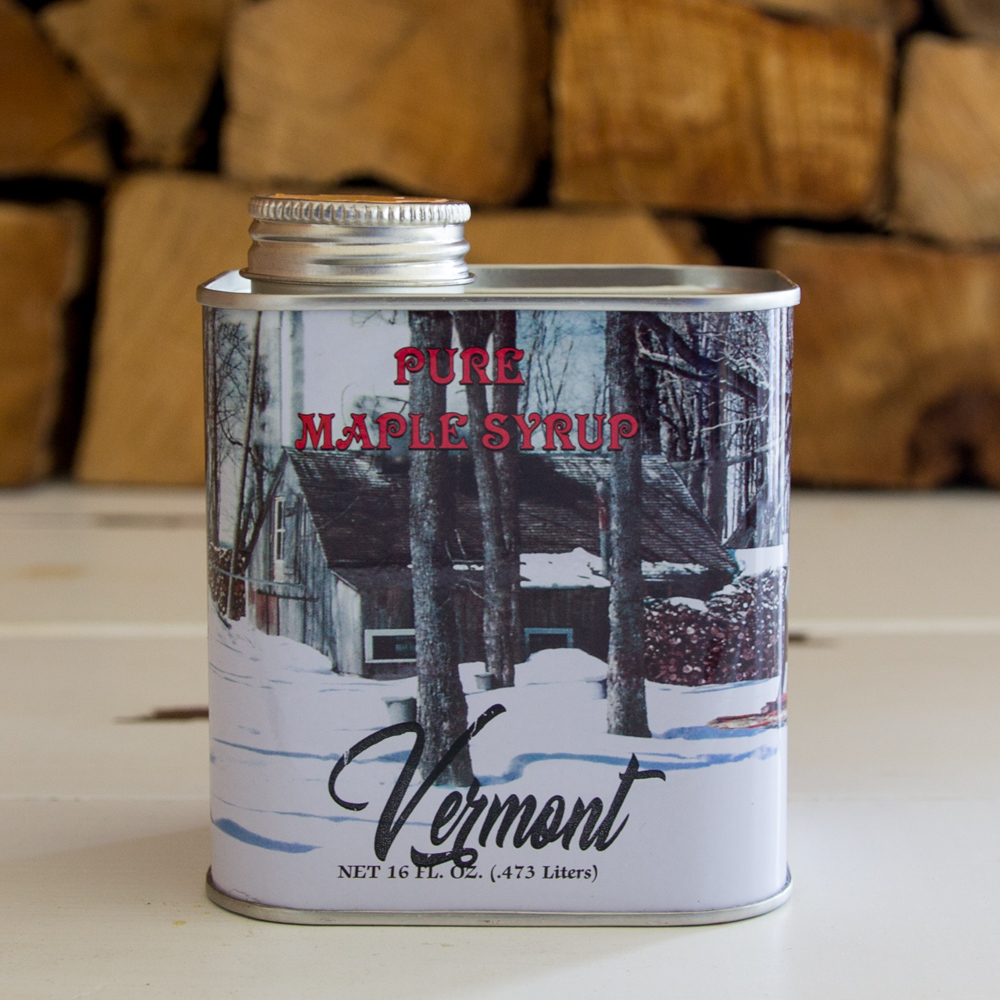 It's Hanukkah, of course there will be latkes! We're all familiar with the traditional toppings of sour cream or applesauce, but this is 2020, let's get a little meshugenah and start a new tradition...latkes with maple syrup! Trust us, when you whip up your next batch of latkes, add a healthy drizzle of pure Vermont Maple Syrup to create sweet and salty perfection!
For the eighth night, be a real mensch and treat your favorite lady to a hand crafted, Vermont-made Maple Seed necklace from Allison Korn Designs. Made from the imprints of a maple seed found in the late-summer woods of Vermont, this northeast maple is a variety that thrives off nature's floods. These earrings epitomize resilience at its finest. A 2020 necklace if there ever was one!
Chag Sameach and Happy Hanukkah from the Green Mountain Market!
-----
Shop The Journal entry:
You've heard it everywhere this year; shop small, small local. But why? Why is it so important (especially this year) to do your holiday shopping from smaller businesses? Why should you skip the big box stores and visit your community Mom and Pops? Why buy from someone down the road, rather than from someone overseas? Of course, you intrinsically know some of the answers to these questions, but we feel that, now more than ever, it is important to make sure that as many people as possible know why this movement is so pivotal.
Here are four reasons to shop local this year:
1. Investing In The Community
We all know it, but it's importance necessitates repeating. When you shop local, you're supporting your family, friends, and neighbors and ensuring that your quality of life (or the quality of life of the community you love to visit) stays strong and full of spirit. Remember, locally owned businesses create local jobs and opportunities - linking neighbors together in business and social relationships throughout the community.
2. Speaking of Community...
One of the elements that makes so many Vermont towns and hamlets such vibrant, beautiful locales, is the small, local businesses that they are comprised of. You can go anywhere and find another Bed Bath and Beyond, but many of the products, makers, and farmers that you love can only be found in Vermont. By providing our local Makers + Farmers a place to sell their goods year round, our mission is to do whatever we can to help promote these amazing people's stories and products! By purchasing these one-of-a-kind gifts, you're helping to keep the doors open for the many Makers + Farmers that make this state what it is today.
3. Quality: Hand-Made Means More Love!
All of the Makers + Farmers that we feature on our Market are true artisans. Single use and planned obsolescence are, quite frankly, not in their lexicon. By focusing on single, or small batch products, they are able to ensure the utmost attention to detail and quality of craftsmanship. When we think of Vermont products, we think quality, and we know you'll feel the same.
4. Doesn't It Just Feel Better?
I know we may be biased and we certainly haven't yet developed the manner to fully measure this feeling, but doesn't it just feel good to purchase a well-made gift, and know that you are helping to keep the spirit that makes Vermont so special, alive? Look, we understand that you can absolutely find products from mega-online retailers that will undoubtedly be cheaper. And we're not trying to suggest that price is always indicative of quality - but, when you can know exactly where the ingredients that make up your gifts are coming from, and exactly whose hands crafted them, there is not only a pride of ownership that comes with making that purchase, but also an unquantifiable feeling of "good" from making sure those products will continue to be made for many holiday seasons to come.
Happy holidays from all of us at The Green Mountain Market by Vermont.com and thank you for shopping small, shopping local, and shopping Vermont! Be sure to visit all of the Makers + Farmers featured on the Green Mountain Market by clicking here.
How many plastic bottles do you have in your shower right now? I asked this simple question to some of my friends. Like most friend groups, we differ greatly from being sporty/girly/crunchy/zen, the full spectrum. And you want to know the average answer? 7. Seven plastic bottles was on average the number at any given time in my collective friends showers. Here I am happy to protest to save mother earth, to fight climate change, to buy everything eco-friendly when possible, but I still have x amount of junk plastic in my shower. And let's be totally honest, maybe it'll be recycled if i'm being good, or realistically, maybe it'll be thrown in the bathroom trash bin and collected later to be thrown away.
Well that's it. It is time to make a change. How can I stop the plastic habit? Do people still use bar soap? Well, I am happy to report - bar soap is back and here to stay, baby!
To be honest, the only person I know that consistently uses and buys barred soap - is 75 years old.. But I think he's onto something. Why am I buying so many products? And what the heck is actually inside this bottle? Well as I dove into internet research - as one does - I found out what I probably knew to be true but didn't want to hear; the products I use on my bare body every day- is really full of crap. Detergents. Synthetics. Artificial colors, scents, and chemicals that definitely don't make me feel clean on the inside.
I want something better. I want eco friendly products and I want clean products - and I'm not the only one. The hunt for better products for our body and environments has been on many people's minds lately, and I can only hope it gets ingrained into our culture, we can do better. And this change does not have to be a bad thing! I finally switched to using exclusively bar soap and I am so happy I did! I have been loving lathering up with a bar and really embracing the aromas, the ambiance, the experience of real soap! It reminds me of being at a fancy hotel, or like creating my own spa experience!
My go-to right now is anything by Grace and Miss Mouse Soaps. Miss Mouse (Judy Lidie) and her daughter, Danielle, produce a wide array of fantastic-smelling small-batch soaps, operating out of beautiful Bellow Falls, Vermont. I am absolutely in love with their line of barred soap and can't wait to use up one bar to get onto the next scent! Every scent brings a new feeling and vibe to my shower. The soap is refreshingly back to basics. It makes me feel happy in my soul to be using real soap again. No more detergent mystery bottles. Real soap with real ingredients! My current obsession? Basil Lime. On deck? Vermont Forest.
Grace and Miss Mouse Soap also has a specialty Sheep's-milk line, in collaboration with Vermont Shepard from Westminster, Vermont. If you want to up your barred soap game, sheep's milk brings it to the next level. Super moisturizing, exfoliating oatmeal. Complete luxury.
So to break it down:
The soap? Dare I say, life changing?
The packaging? Biodegradable paper.
The makers? Bad-ass. Women-owned. Local. The trifecta.
So if you're ready to ditch the plastic, to be eco friendly, to support a local business, and to support female entrepreneurs, what are you waiting for? Try one of Grace and Miss Mouse Soap Bundles here exclusively from the Green Mountain Market. We've curated five different bundles that we think will satisfy any persona!
Vibrant Vermonter Bundle: Vermont Forest, Vermont Maple, Lilac
Flower Child Bundle: Hippy Dippy, Lavender Patchouli, Dragons Blood
Vermont Buck Bundle: Barbershop, IPA Beer Suds, Basil Lime
Clean Life Bundle: Auntie Septic, Fresh Linen, Dog Shampoo
Sheep's Milk Bundle: Basil & Lemongrass, Lavender & Oatmeal, Rosemary & Mint
2020 has been a year. The world often feels like it is falling apart, and we're more divided than ever. Most of my interactions have turned digital. Zoom chats, comment sections, blogs, social media, rabbit holes upon dark space rabbit holes. I can't remember how many times I've read "unprecedented times." I miss feeling truly connected to people around me; to my community. Walking down the street, talking to neighbors, going to farmer markets, discovering something new, buying local… All of these used to be so normal, easy. The world has shifted, and more than ever, people are buying all of their goods online. Although the convenience is great, the economic impact to the little guys can't go unnoticed. Mom and Pops are closing and Big Box is taking over. I like to think of myself as a "buy local, buy clean/eco friendly" type of person, but as many times as I've read "unprecedented times" I've also clicked ''proceed to checkout' from you know who... How can we end this cycle? What does all of this online shopping mean to your small community, or the small communities you love to visit? Sure, I need toilet paper, but I also want to stay local.
So during quarantine, my fiance and I began to ask the question: what can we do to help?
What resources do we have? What connections can we make? How can we help our local community? I want maple syrup, but don't want to leave my quarantine. Let's create an online farmers market. Just for Vermont products.
So we did just that. We've partnered with Vermont.com, (a Vermont tourism site that has been around for over 20 years!! That's the 90s internet, people!) to bring you the Green Mountain Market.
Our mission is to help support the Makers + Farmers of the Green Mountains by showcasing their unique, sustainable, locally-made products to a vibrant and active online community. We aim to curate a collection of products - sourced solely from within our state - that exemplify the quality craftsmanship and design of Vermont. In doing so, we hope to deliver a piece of the Green Mountain ethos directly to your home.
So please, take a look, shop around, and "proceed to checkout" to support real, small-time makers + farmers, real Vermonters. Whether you're from here, or vacation here, many of us have a soft spot for the Green Mountain State. Help us stay around. After all, We Are Vermont.
We know that your time is precious. Between work, kids, and all around life, it can be hard to fit everything into a tight schedule. But Fall Foliage in Vermont is something that needs to be experienced now and not pushed back to 'next time'. Keeping in mind that you have less time than an average Vermont grow season [it's very short] – we're always on the lookout for activities, events, and places that pack as much into your experience as possible. Enter Green Mountain Orchards.
As perhaps the most all-encompassing Fall Foliage experience that we've encountered, Green Mountain Orchards has it all. Outdoor, family experience? Check. Amazing views and vistas? Check? Pumpkins, Apples and Cider? Check, check and check. With horse rides, a country store, pick-your-own, and more delicious pies, crumbles and buckles than you can imagine, Green Mountain Orchards has got all the bases covered and then some.
After our recent visit, we put together our top 6 reasons why Green Mountain Orchards is your one stop Vermont fall foliage experience.
1. Central, Idyllic Location
Conveniently located just a short drive from I-91, Green Mountain Orchards is easy to get to. Once you're here however, you may never want to leave. With over 800 acres of rolling hills, wide open meadows, and spectacular mountain and valley views, this place is as close to perfection as we may ever find. Breathtaking no matter what time of year, it is particularly stunning during the foliage season. The view of the surrounding valley explodes in vibrant colors and provides the perfect setting to pause and take it all in.
2. All About The Family
Going on its 100th year of continuous operation, the Darrow family has been stewards of this amazing land for four generations – and we can't imagine a more perfect family to be at the helm. Incredibly welcoming and generous, the Darrow's make you feel as though you were picking apples in your own back yard. Even though their primary role at the orchard is to grow apples and blueberries for the wholesale market (you undoubtedly have them to thank for enjoying such amazing fruits in the middle of the winter), they go far and beyond to make sure that your experience is unforgettably warm and special, and can not wait to welcome you back.
3. Horse-Drawn Wagon Rides
While you certainly wont be breaking any track records – although these guys do get moving pretty fast – you will be blown away by the sheer size and power of these gorgeous creatures. Getting a proper tour of the orchard while riding in a horse-drawn hay wagon, is not only a great way to learn more about the history and behind the scenes workings of the business, but also to get a glimpse of just how far the property reaches.
4. Blueberry Buckle
Alright, we realize that Blueberry Buckle may not be as synonymous with fall and an orchard as say, Apple Pie (which is beyond delicious here), but this dessert/breakfast/snack/food-of-the-gods is out of this world amazing. Buttery, sweet, tart, crunchy, flakey, gooey, and all the other words that describe this dish could never do it justice – so just please take our word – it's worth the trip alone!
5. Cider ( and Donuts!)
With a do-it-yourself press on premise, you just can't get a fresher fall taste than that of Green Mountain Orchards Cider. Not in the mood for manual labor, but still after the flavor? Freshly made jugs are available in the store and just begging to be taken home and heated up [/added rum to]. And good god, do not forget the donuts. Ridiculous.
6. Toby
And finally Toby! What a great life this happy pup has. Spending all day outdoors and in the fields going from family to family, assisting in apple picking, and receiving his fair share of 'dropped' treats for his efforts. Makes us seriously question our choices in life and how we can be more like Toby.
—
Green Mountain Orchards is located at 130 West Hill Road in Putney. Open daily from 8AM – 6PM, you can pick your own apples, grab a pumpkin, find a Christmas tree, make some cider, taste a pie, harvest the blueberries, go for a wagon ride…you get the idea, Green Mountain Orchards is pretty darn cool.
It's a dangerous thing to wake up feeling ambitious. Starting off innocently enough, with memories of the night before (a Friday) reminding me that we had made vague plans to go hiking, I chose to actually get out of bed when I woke up, instead of pretending to sleep till noon. The dog had a pretty rough week after all (travel schedules and foul weather had played an active role in keeping him indoors) and he certainly deserved some time to let loose and romp through the canine frustrations surrounding his sedentary week. A hike would surely do wonders on my end as well, aiding in those newly minted plans to start getting in a shape other than rotund for ski season. With my girlfriend starting her first ever teaching position at UVM on Monday, I knew the bright sun and quickly vanishing opportunities for hiking freedom would make her an easy sell. All of this plus, the house was a mess and despite the hypothetical schedules proposed in homes across the nation, nobody actually wants to clean on the weekend.
We decided to recruit an additional member to our hiking party, a good friend of ours, a programmer. I mention his occupation for two reasons; 1. He is responsible for much of the new look and feel to Vermont.com, which warrants significant recognition, and 2. As a programmer, there is almost no chance that he went to bed before 4 in the morning, and an early wake up call to go hiking would be much appreciated, I'm sure. With surprisingly little (dare I say, frustratingly little) resistance, he was on board. We picked him up 10 minutes later.
Our destination for the afternoon was the hiking trails of Smugglers' Notch. We had frequently enjoyed the hike to Sterling Pond (in fact it was one of the first places we had taken our dog as a puppy) and really can't recommend it highly enough. Offering great views of the Notch Road, Mt. Mansfield, and the surrounding valleys, it is a relatively mellow, yet adventurous hike. Sterling Pond acts as a great motivator to get to the top and is an ideal spot to picnic before you begin your descent. Clocking in at approximately two hours roundtrip, it's a great hike for the whole family. We had however, just recently done the Sterling Pond route with visiting family members and wanted to try something new.
With our history in the area being solely at Sterling Pond, we hadn't really packed much besides a camera and a bottle of water filled to the halfway point and had no reason to think we would want anything more. This is called foreshadowing.
Hell Brook Trail is absolutely beautiful, let me state that first, foremost, and most emphatically. Whether you are lucky enough to be able to enjoy the Vermont landscape frequently, or if you are a newcomer to our state – Hell Brook Trail is stunning. It is 1.3 miles affectionately labeled "Straight Up" or "Straight Down" depending on the leg of your journey. The sign at the beginning suggests that it will take roughly 3-hours round trip. Perfect.
Once on the trail you are immediately immersed in quintessential Vermont forest. A log bridge over a babbling brook, huge, beautiful maples, birches, and pines, boulders and caves – essentially the backyard that each of us dreamt of as a child. A short distance into the hike is a 20-foot waterfall. At this point, we were all still fresh-legged and enthusiastic and spent a good 15-20 minutes climbing around, exploring, and seeing if our bushwhacked route would meet back up with the path (it did not). Happily making the detour back to the trail, we began to hike.
On first assessment, at only 1.3 miles, it barely seemed appropriate to call it a hike – more of a jaunt really – however, once past the waterfall and only several hundred yards in, we could see that calling this a climb might be a bit more apropos. It was straight up. More common to be on all fours than upright, this was one tough 'mudder. In those rare sections when you could walk, the loose rock, moss, mud, water and roots all made valiant and persistent efforts to bring you back down. The areas where you saw a clear and solid foothold were juuuuuust a little too far apart, turning them into a vertical lunge rather than a set of stairs. Pouring sweat and feeling as though my quads might spontaneously combust, we pushed on. And on.
Through the agony however, was an amazing experience. It was a perfect day, not a cloud in the sky and mid-70's, with a nice breeze to keep you cool. There were huge rock outcroppings to stand beneath and the brook from Hell Hell Brook bouncing effortlessly nearby. Many times there were openings in the canopy and the views were unbelievable; sheer cliff faces and towering peaks of Spruce and Maddona across the notch. With hawks circling lazily overhead and the sun shining warmly down, it was truly ideal.
We continued. With the three-hour roundtrip time estimate in mind, we had decided to start a timer at the trailhead to better gauge where we were. We figured on an hour and half to the summit, so as the time crept past 90 minutes, we expected to be emerging victoriously from the woods at any time. However, each hiker we met on their way back down suggested that we were "Almost halfway there", or "Just another 45minutes". With each passing conqueror our morale decidedly plummeted, until finally the cruelest reply of all: "Are we almost to the top?" we asked with the naïve hopefulness of a child asking for a second helping of dessert – "Not even close." she cruelly snickered.
Broken.
However, we rallied. Finally coming to a clearing at the trail, we could see The Chin looming in front of us. We were going to crush it. At this point fueled by ego more than energy, we made (relatively) quick work of The Chin. Although not a technically challenging ascent, with the high exposure you definitely want to make sure of your footing and hand-holds. Not for the faint of heart, or balance-ly challenged, the route up The Chin knows how to get your heart pumping. Luckily our dog is part mountain goat and there were only one or two spots where we had to convince him that this really was the path. We managed to convince ourselves as well.
The entire hike up, I had a nagging thought in the back of my mind that this trip better be worth the views at the top. I imagined a fog front rolling in just as we made the summit blocking off any inspirational views that we had heard so much about. Or perhaps we would encounter a particularly over-zealous forest ranger who would inform us that the spot of the highest elevation in the state was unfortunately 'closed'.
I need not have worried, as the view that awaited us was far more than had been anticipated. With still not a cloud in the sky, the view down of Stowe Lodge seemingly in miniature, Sterling Pond across the notch, Lake Champlain, the far shores of New York, and mountains upon mountains upon mountains, dominated the landscape and was reason enough to endure any physical test of will.
After a seemingly endless hike, we split what little water we had and gazed jealously at the far more knowledgeable hikers unpacking picnics and chugging sports drinks. With thoughts of grabbing the surrounding food and drink and making a break for it tempting the dark recesses of my mind, I can only encourage you to hike this trail far more prepared than we did. We lounged and enjoyed for a solid half an hour before coming to the conclusion that we needed to get back to the real world of 1.3 miles straight down.
I wish I could tell you that down was easier or somehow faster than up. I really wish I could tell you that. However, each vertical lunge had magically transformed into a vertebrae crushing, cartilage compounding jolt. When we had finally managed to make it back down to the start of the trail, I rushed (well, hobbled) over to the information map, with my ego hoping that I had somehow misread the three-hour roundtrip approximation. I had not.
By final tally, it had taken us a shade over six and a half hours to complete our journey. Six and a half hours of bone crunching, thirst inducing, hubris demolishing hiking to get to the top of our beautiful state's tallest peak.
Hell Brook Trail might have taken us down a peg or two, made us question our weekend resolve, and left us muddied, bruised and battered – however, it also gave us a reason to get to the top, to keep going and enjoy the view.
—
To tackle Hell Brook Trail for yourself, check out the Vermont State Parks for more info. Located on Rt. 108 (The Notch Road) in between Smugglers' Notch and Stowe Resorts – Hell Brook Trail is an amazing way to see a different view of Vermont. Just make sure you bring snacks and water...you'll need it!