Trust us, we know the feeling - it's the middle of the month and you still don't quite know what you're getting for everyone on your gift list! We've all been there before and this year more than ever, it can be a total pain to go out and go shopping. Which is why we put together this list of ten Vermont-crafted gifts all for $25 or less, that we wrap and send to the front door of your choosing! We know you're going to love these great gift ideas, so don't forget to put in your order as soon as possible to arrive before the Holidays! Plus, don't miss out on free shipping on all orders over $75 when you use code "SHIPFREE75" at checkout. Happy shopping, Happy Holidays, and thank you for shopping local!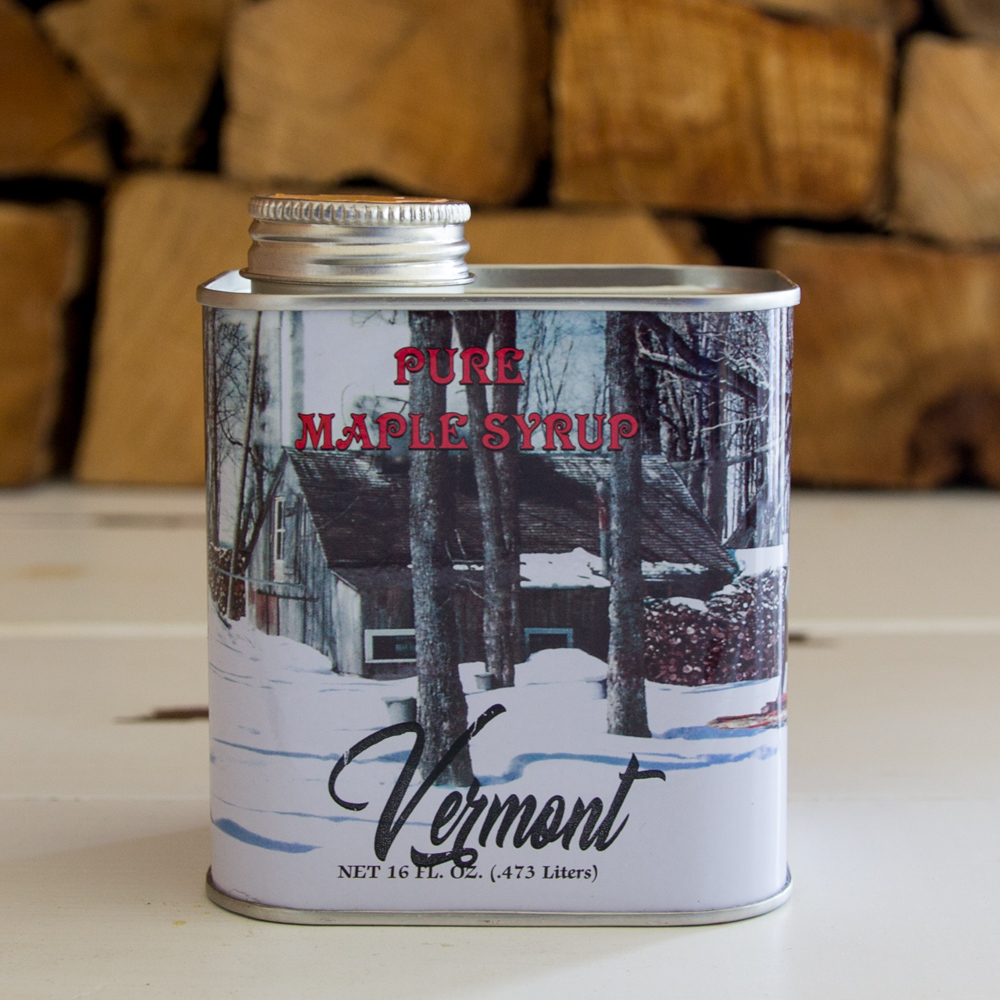 Enjoy your favorite pure Vermont Maple Syrup in this vintage-inspired syrup tin featuring a bucolic Vermont scene. Perfect for recreating nostalgic moments, framing your perfect Instagram shot, and most importantly for being unbelievably delicious, this Old Fashioned Maple Syrup Tin is filled with Grade A Amber Maple Syrup, that every maple-lover will enjoy!
This award winning Organic Maple-Vanilla Granola contains no nuts and is made with rolled oats, pure vanilla extract, and Vermont Maple Syrup. This tasty granola is full of crunch and flavor, but not too much sugar. Ideal for a tasty topper to your morning breakfast, or as a boost of energy when you're enjoying the great outdoors - one thing is for certain, this is one of the best granolas we have ever tasted and we know you'll think so too!
You may have heard of some of the benefits of taking a teaspoon of plain Apple Cider Vinegar each day, well here is the Vermont alternative! Take a shot...to life! Your digestive, circulatory, immune, metabolic, cardiovascular, respiratory, reproductive, and cognitive functions all benefit from this powerhouse grouping of fresh ingredients. And hey, because we're Vermonters here, maple syrup is added for nutrients & delicious sweetness!
Overland Botanicals CBD Healing Balm is our holy grail little beauty secret. This easy-to-use beauty balm is a perfect remedy for tired eyes, cracked lips, and dry skin. Add this to your beauty routine by using it on your lips, eyes, and body to firm up and moisturize your skin. We love keeping this healing beauty balm not only on our vanity, but at our work desk as well for all-day calming and moisturizing pick-me-ups!
Comprised of three manly and crisp scents, The Vermont Buck Bundle is for the gentleman that appreciates a heady DIPA, maintains a majestic beard, and can stack a cord of wood quicker than you can say "Hand me my hatchet". If this sounds like you (or the special gentleman in your life), then The Vermont Buck Bundle is for you.
Vermont Barrel Aged uses recycled whiskey barrels to transform normal hot sauce, into something truly magical. They locally source a variety of hot peppers and create a custom blended hot sauce that is then aged up to three years in oak barrels. The whisky barrels infuse a unique flavor of spicy-oaky bourbon creating a hot sauce with complexity and simmering heat.
Every morning, happy Vermont cows, Saturn & Phoebe, come in from the fields for their daily morning milking. Maeflower Farms uses this milk to make their signature line of Whole Milk Cow's Soap which is soft, gentle on the skin, and gives a nice creamy lather. Gingerbread Spice Whole Milk Cow's Soap is packed with ginger, clove, cinnamon and nutmeg essential oils, this warm and spicy soap is sure to remind you of winter holidays and gingersnap cookies with a glass of milk!
The perfect VT treat for any Vermont child or adult alike! This maple sugar candy will melt in your mouth and put a grin on your face. Made with Pure Vermont Maple Syrup right here in the Green Mountains!
Dorset Daughters lotions are made by hand in a sixth generation Vermont farmhouse.Their Hand + Body Lotion is a long lasting moisturizer, making it great as an all over body lotion, or for keeping near the sink to rehydrate after hand-washing. This lotion is made with Sunflower Oil and Shea Nut Oil, and is scented with 100% pure essential oils.
Infused with smoked Serrano peppers, this maple syrup offers an explosion of flavors. The flavor profile of the Serrano is a crisp, smoky, fruity flavor with citrus undertones and a heat that lingers. This savory pepper and the maple syrup combined offer the perfect balance of sweet and spicy. With many layers to it, this maple syrup starts off with a smokey flavor and comes in with spice on the back end.
Happy Holidays from all of us at The Green Mountain Market by Vermont.com!