There's nothing quite like Christmas morning in Vermont! Don't get us wrong, Christmas is a special time of year no matter where you're celebrating, but there is something extra special about spending the Holiday in the Green Mountains! A beautiful layer of snow blankets the ground (on an extra special year it snows the night before!), there's a warm, welcoming fire crackling in the fireplace, and most importantly, time seems to slow down just a little bit and you can find a moment to take a deep breath and relax. We've put together a quick list of Vermont-made gifts to help augment your Holiday morning festivities and we know that you'll want to add them to your family's traditions!
Christmas is a day that starts early and goes late! We recommend that you gather your strength and start things off with a strong mug of coffee. We've been absolutely loving the blends that Tall Cat Coffee Roasters from Dorset, VT have created. Specializing in sourcing organic and fair trade coffee, followed by roasting locally with love, a great cup of coffee will keep you energized and prepared for your busy morning ahead!
Now that you've had your morning coffee fix, strengthen your energy resolve for the present unwrapping with a delicious Christmas morning breakfast! May we suggest a large stack of buttermilk pancakes drowning in pure Vermont Maple syrup (Buddy the Elf will approve). To really take your syrup game to the next level, be sure to enjoy what the good folks at Dorset Maple Reserve have been cooking up (the Maple Connoisseur Trio is UN. BE. LIEVABLE)!
Now that we're fueled and ready, let's take a look at some Stockings Stuffers!
Grandpa's Stuff Maple Cream is a delectably scrumptious Vermont treat perfect for every stocking. Enjoyed for generations, Grandpa's Stuff is a delicious gift idea that will bring a smile to the face of any maple lover! Of course Grandpa's Stuff is exceptional on all of the classics (pancakes, waffles, toast), but one Pro Tip is to drizzle some over a bowl of freshly popped popcorn. Mind blowing!
These are the most surprising and entirely amazing gummy candies we have ever had! Bold claims, we know, but we honestly have never had a more flavorful and delicious gummy, ever. We're offering these treats from Ambrosia Confections as a three-pack mix and match of flavors, perfect to gift together, or split up into each of the stockings on your mantle. As we've seen in our own pantry, your family will be fighting over the last bite!
For the main event, a few gifts for under the tree!
The resident ski bum of the family will be thrilled to rock Wander on Words' Ski + Ride Vermont T-Shirt. The design features all of the ski resorts in Vermont in bright green, blue and white, on a super soft and wearable t-shirt. No skiers or riders? Check out Wander on Words other t-shirt options, Breweries of Vermont and Hike Vermont!
Christmas is often a time to explore luxury gift options, but that doesn't have to mean luxury prices! Grace & Miss Mouse Soaps Luxury Sheep Milk Set is a trio of Vermont-made hard bar soaps that will satisfy any self-care spa-lover in your family. The soaps are made in small batches, locally, by a woman run business using the finest of ingredients leaving your skin exfoliated, nourished, and moisturized.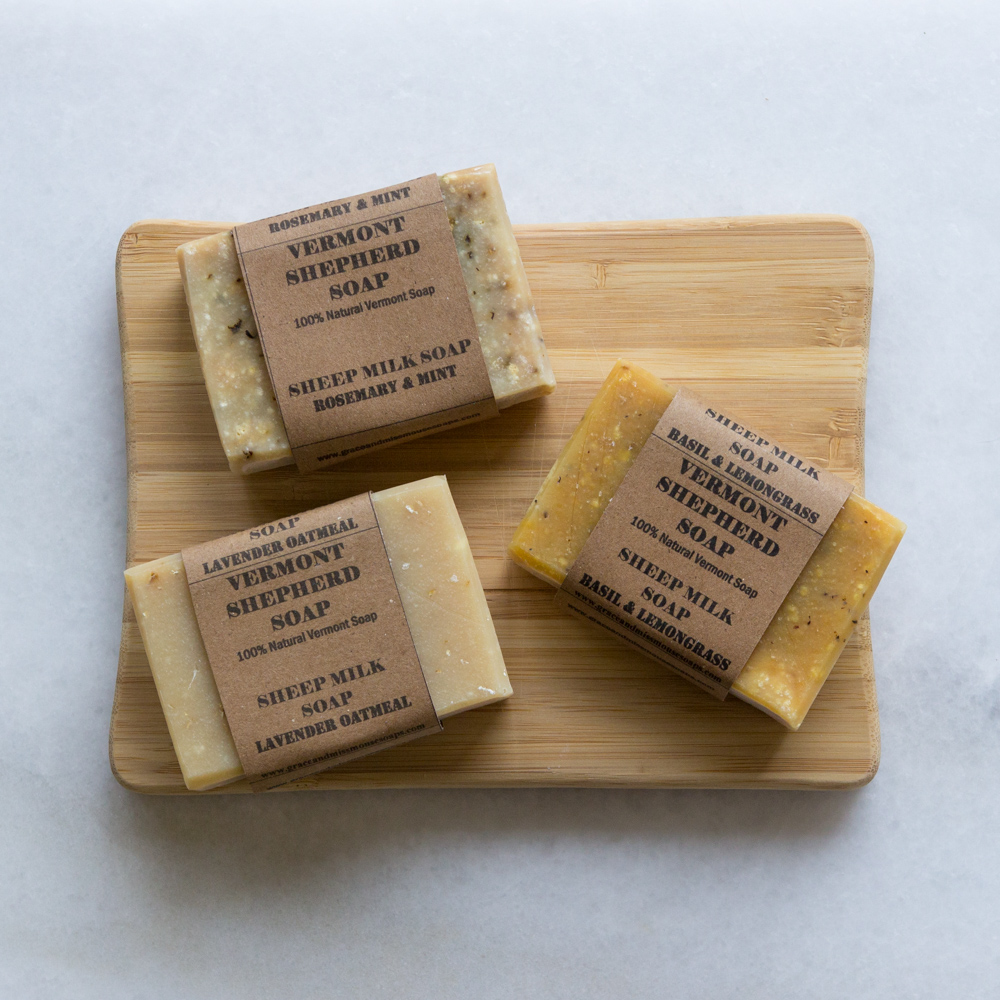 Always a show stopper, treat your favorite lady to hand crafted, Vermont-made, Maple Seed earrings from Allison Korn Designs. Made from the imprints of a maple seed found in the late-summer woods of Vermont, this northeast maple is a variety that thrives off nature's floods. These earrings epitomize resilience at its finest. A 2020 jewelry if there ever was one!
Merry Christmas from all of us at the Green Mountain Market!